The Gaur Platinum Towers Price List is one of the residential marvel created by Gaursons at Sector 79 Noida. The already bustling city has got one of the most beautiful home that can certainly be said for the exclusive family and people who want to stay in one of the most premium apartments. The homes are built with exclusive private residences and can be seen as an iconic homes with twenty-seven floors and two towers that is reserved only for 52 families in total. One of the tower will comprise of four bedroom apartments of 440.35 sq meter while the other tower has five bedroom apartments with an area of 576.93 sq meters that is 6210 square feet. a Part of Gaur Sportswood Noida Sector 79 Noida
The Gaur Platinum towers have come up with yet again a splendid or let's say unique idea of one floor-one family concept and the entire floor has one home for one family to reside which shows the grandeur and exclusivity of the well planned architecture. The homes here will make you feel easy and further more easier to breathe with lot more clean and green building. The Gaurs Platinum towers have multiple indoor sporting options that gives an opportunity to fulfill the life with less of anxiety and more of pleasure. The other better aspect is that the entire property has put efforts in increasing the green building technologies that can be seen with imprints of Gaurs Platinum towers which certainly cannot be seen with any other project by other builders.
This Layout 4720 Sq.ft.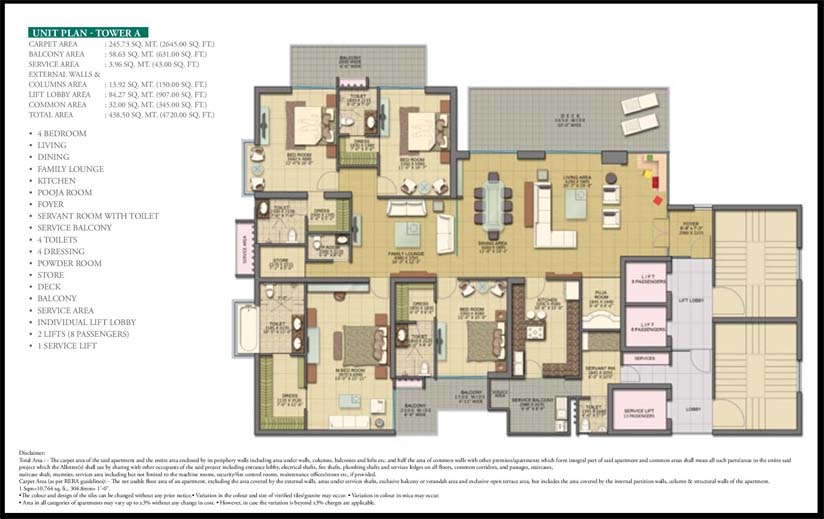 Here are some of the exclusive and well designed services that makes the Gaur Paltinum Towers a class apart in terms of luxuries and preferences:
Customized interior options available with every home
Meticulous architectural design that gives grandeur
Entrance lobby with looks that are luxurious and stylish
Flooring with all Italian marble
Modular kitchen with branded accessories
Branded fittings and accessories at every room
The other bigger advantage which makes life easier and comfortable while residing at Gaur Paltinum Towers are:
Right next to FNG Expressway
Metro station in the vicinity
Easy access to major transport corridors
Metro station in the close proximity
The homes at Gaur Paltinum towers is designed by well known residential project experts and it helps the professionals to fulfill the needs of the premium buyers. The towering projects can be given a real heavenly feeling with stylish ambiance and premium facilities. The Glass and SS railing in balconies are another given advantage that gives more than what one expects and the same could be said about the false ceiling which is found with every homes in the most elegant manner. One of the first of it's kind in terms of low density project with only 52 families in one tower it offers an exclusive private mod residences.
This gives a sense of privacy that adds better privilege to the lifestyle with tight security vigil that makes one feel secure as well. One could certainly say that Gaur Platinum Towers helps with one of the finest living that residents can find with maximum ways to enjoy fresh air and sunlight due to a better living concept by Gaursons Group : Gaur Mulberry Mansions Price List.