Trehan Iris Broadway is a commercial project with one million sq ft of green building that has 25,000 sq ft of Central Atrium. The project adds green landmarks that keep the world cooler and makes it a scintillating Broadway Greno West. The project has 25,000 sq ft of Central Atrium with shading structures and natural plantations. The project is with panoramic views of the atrium. The mall houses with atrium and the mall houses roof terraces that have a garden too. The project has a green building design with the makers of Ferrari World and Dubai City Walk. The project has two sides triple entry heights dedicated to it. It adds 130 meters and 24-meter roads. The project has 5 screen cinema that has over 1200 seats. It has an iconic 30-floor office tower with green building development.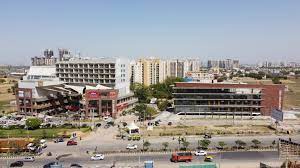 Trehan Iris Broadway Greno West is with triple height adventure along with an entertainment zone that spans over 25000 sq ft. It adds with shopping center, Clubhouse, kid's play area, car parking, and food courts. It also adds 3 tier security that makes it secure development. The project has a low maintenance cost and a banquet space of 4500 sq ft. It has a service floor available. The development has a swimming pool, separate entry and exit, triple basement parking, laundry service, and a gym or spa on the terrace. The project adds with growth and prosperity that is at the heart of Noida Extension.
Trehan Iris Broadway Site Plan has a lower ground floor with a price of Rs 68.70 lacs, the first floor has 300 sq ft for Rs 62.70 lacs. It has a second floor with an area of 300 sq ft that has a price of Rs 53.70 lacs. It has 690 sq ft with the price of Rs 1.41 Crore onwards. The project has CCTV security, a security guard, and car parking. It adds restaurants, banquets, high-speed elevators, metro connectivity, and escalators. It has retail, entertainment and food court, and office space all under these big developments. The project has large IT/ITES campus developments within proximity that add good footfall. It has Greater Noida West that is more than 5 lakh apartments in the area that will add more than 12 lakh residents near it. The project has an Aqua metro line that passes through Greater Noida West. It also connects with Knowledge Park which adds immediate connectivity to commuters residing near Greno West. Wave City Eligo Site Plan, Civitech Strings Site Plan, M3M City Of Dreams.
Trehan Iris Broadway is designed with globally renowned architect Benoy from the UK as a principal design consultant. The project is with 3 big anchors, 20+ restaurants, and a food court along with 5 Cinema screens. The project is with strategic divided into 5 zones that are spread over an area of 5 floors. The project adds a dedicated entry and exit, a double-height lobby, and a drop-off on the ground floor. The project is with Golden Petal which is designed by unmatched land, USA as the largest central atrium of the mall. It has an Express escalator that is with exclusive food court. It has 6 large anchors with road heritage.